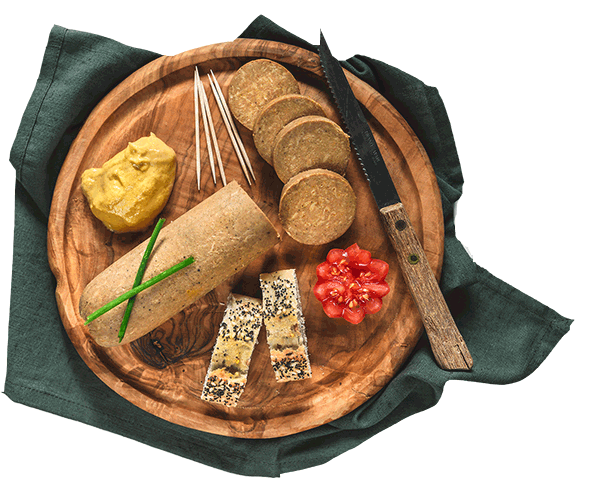 Organic · vegan · lactose-free · egg-free · palm oil free
Vegan Sujuk Sausage
Vegan, organic seitan sausage with garlic, based on Seitan
Our Sujuk is the vegan version of a traditional Turkish sausage: a well-seasoned, piquant treat with a garlicky taste. Traditionally served sliced as a lightly fried or grilled appetizer with bread and vegetables, it can also serve as a savoury filling in pastries and samosas. Our vegan Sucuk can also be eaten raw, for example with bread and olives or, of course, as a delicious guilty pleasure with nothing added at all.
Organic · vegan · lactose-free · egg-free · palm oil free
Vegan Sujuk Sausage
Vegan, organic seitan sausage with garlic, based on Seitan

seitan* (water, WHEAT protein*) (62%), coconut fat*, WHEAT protein texturat* (WHEAT protein*, WHEAT flour*), spices*, WHEAT starch*, garlic* (3%), yeast extract*, paprika*, acidifying agent: lactic acid**, rock salt. * = certified organic, **= vegan
Nutritional values per 100 g:

kcal
260
kJ
1089
carbohydrates
14.1
4.0
fat
11.9
of which saturates
protein
22.2
carbohydrates
14.1
salt
1.9
Contains Gluten. May contain traces of celery, mustard, soy and lupin.
Art.Nr.: 6147700
200 g